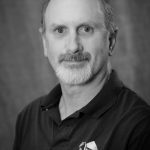 On behalf of my wife, Claire, and myself, I want to welcome you to the new school year. I am blessed to have a wonderful partner in this adventure called life, and Claire patiently abides by me as I work from home (our little trailer right now as we build a new home) or pack my cell phone wherever we go (which allows me to work a bit more flexibly). Shortly after taking this picture on a lovely, lonely beach north of Sayward on Vancouver Island, I answered a call from a parent wanting information on her children's options for education. This flexibility is one of the tremendous opportunities that Distributed Learning gives to students, families, and educators alike. I encourage you to take advantage of it.
The pages of this school year have not yet been written. And last year's pages have begun to collect dust. So move on. Capitalize on what has worked, leave what hasn't. Plan for success, plan for work, plan for play. And keep your expectations reasonable. Looking forward, we face the temptation of trying for perfection. Looking backwards, we then realize our lack of success in achieving that perfection. So, why not avoid that temptation of setting ourselves up for failure. Rather, let's write this year one page at a time, pages written well enough, and pages filled with contentment, joy, satisfaction, love, camaraderie, grace, patience, a few tears and lots of smiles.
My hope and prayer for this year is that students, parents, and staff members will find lots of happiness here at TLA. Whether you are using our Home program, our Blended program, our Online program, or a mix of two or three of these programs to complete your education this year, set happiness as a key goal. Ideally, you want to begin and end each of the pages of the year on a happy note, and when that isn't possible, realize that whatever is robbing you of your happiness ends that page with a "To Be Continued" which means that tomorrow holds out the promise of happiness returning.