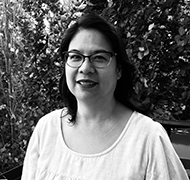 Rita Lago
Blended
Rita has been a part of the TLA community for over a decade as a homeschooling parent. For the past seventeen years, she has dedicated her life to educating students, from her own three children as well as other children, in a variety of settings. In addition to homeschooling, she worked as an Education Assistant in the Catholic school system and as a volunteer catechist at her parish. Her own passion for learning fueled her desire in nurturing and teaching her own children, with the goal of imparting a life-long love of learning and with the idea that learning can take place anywhere.
Prior to having children, Rita taught university-level students as a Teaching Fellow while pursuing her graduate studies in Economics in the United States. She is excited to come back to TLA, this time as a Blended Teacher, as she enters a new chapter in her life.
When she's not busy with all her commitments, Rita enjoys the outdoors with her husband and children (though two of them are already grown) kayaking, hiking, and camping.