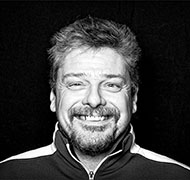 Chris McGrath
Home
Chris

 lives in Kelowna with his wife Karen. He has three children two who have graduated from university and are now married. His youngest lives at home and is attending UBCO.
Chris

 has worked with TLA before in 2003-2005 as a DL teacher before moving to Kelowna where he continued his work in Distance Learning, classroom teaching, curriculum development, career planning for high school students, and even dabbled in administration work and is excited to return to the DL environment.
Before working at TLA the 1990's, 

Chris

 taught grades six and seven before moving into teaching a variety of humanities courses in high school. 

Chris

 is excited to be working with the TLA program, and enjoys assisting families as they meet the challenge of educating their children by blending the British Columbia's curriculum into their home environment and online education.