Hartland Landfill Learning Centre Field Trip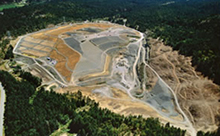 Field trip information:
When: Wednesday, January 15th from 10am-12pm (Please arrive 10 minutes before)
Where: 1 Hartland Ave, Victoria, BC V9E 1L7
Who: Students ages K-3 (Parents welcome, but please no younger siblings)
Cost: FREE!
Visitor Instructions to be sent to every participant ahead of time if possible.
More information: "Does that really belong in the garbage?" Many things that end up in Hartland Landfill can actually be diverted. This workshop teaches students about the 3R hierarchy (reduce, reuse and recycle/compost) and the benefits of diverting waste from the landfill. Students begin to develop an understanding of their role in the community and the broader world, including how we can all make a difference when it comes to what we throw away.
There is no cost to attend the program, and the organizer has arranged a bus to come and give us a tour of the property (in addition to the workshop component).
There is a 15 person minimum and a 35 person maximum.
Sign-up deadline: Wednesday, January 8th – must fill out this form.