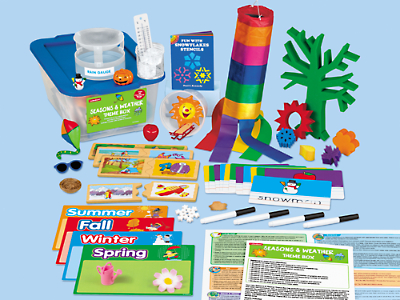 (Picture used from lakeshorelearning.com)
As described on LakeShore Learning, "Children learn all about seasons and weather…with comprehensive, hands-on lessons that span the curriculum! From a rain gauge and thermometer to snowflake stencils and sorting mats, our theme box is packed with materials that help kids explore the four seasons and learn about weather—from thunderstorms to rainbows. Plus, you get a guide with tons of involving activities that cover 10 curriculum areas—from math to dramatic play."
We also have a list of Seasons and Weather themed books to add to this kit if desired.  These titles are:
Materials come in a plastic tub.  Cost of replacement if any pieces are missing: $80 (this does not include books)
These kits are checked out for 4 weeks.  Please request through your Home teacher.